Ask
· Forgive me father for I have sinned by moving my hands like yeah, and moving my hips like yeah!!!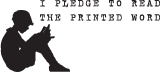 Laryuki
has read 4 books toward his goal of 60 books.
Laryuki's bookshelf: read
More of Laryuki's books »
Laryuki
has read 1 book toward his goal of 55 books.
Laryuki
has read 1 book toward his goal of 50 books.
"You don't have to let go of anything. You have to realize that everything has let go of you. You are not attached to anything in reality. Everything will die and change regardless of your love and attachment."
Unknown (via
fleurlungs
)
(Source: bulltamer, via pascommetoi)
my booty for you
(Source: cl0thes0ff, via cl0thes0ff)
"He inherited from his mother's stories the fundamental style he used, unaltered, in his own stories: namely, the assumption that fact may not be truth, and truth may not be factual."
—from "The Wind-up Bird Chronicle"
(via booklover)
March Book Photo Challenge - Day 18: Makes Me Smile

I got sent the cutest bookmark from The Book Depository yesterday!
(via booklover)